Welcome to this year's Blog it 52!! What is that you ask? If you have been around for a few years (think 2015), you have
seen this before
....I didn't finish it. I thought it would be a fun thing to do this up coming year. Not only for myself, but for others! I really hope that you all join along with me.
Okay. Back to what exactly is Blog It 52. Well, it is a lot like a project 52. A photo a week kind of thing. However, it isn't photos. It is blog posts. I know there has to be bloggers out there, like me who struggles with consistent blog posts. So, for at least one post a week, I got you covered!!
Yes. It is as simple as that! Back in 2015, I would only post 2 months at a time. This year, I am giving them all to you right now. Hey...you can even get started on those posts if you so fancy! Every week, whatever day you want, take that prompt and blog about it. I would love if you came back here & linked up with everyone else. You don't have to though. There are NO RULES with this project. I just want to help other people blog. So, without further adieu, here are 2017's Blog-It 52 Prompts.
I am really looking forward to this!! They are all simple prompts. Nothing that you are really going to have to wrack your brain with. Just fun, light, and easy blog posts. If you forget what to blog about, want to see a list instead of an image, or want to go back and look at past posts, you can do so
HERE
. If this is successful, we will do it again in 2018 and posts picked out by not only me, but you.
There you go. Get your blogging brains ready & brush up those blogs. In just a few short weeks ( can you believe the year is over in less than 2 months?!) we will get our blogging on!! If you happen to want to put this button with your posts, or on your blog, have at it! (This is a no rules project though...so, not required!)
Button for your Blog: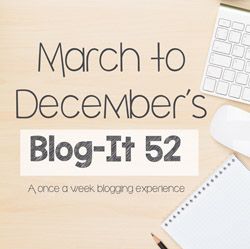 The rules:
THERE ARE NO RULES!