I am not a huge app person. I do have a few that I use everyday though. If I was going to be honest, most of the apps on my phone are used by my son. Things like Goat Simulator (yep...that's a thing), Minecraft, and reading apps. There are two that I use no matter what. Every single day.
Week #4 - Your Must Have Apps
I am not lucky enough to have the memory thing on my FaceBook. I have been using Timehop for years though! Before they had it for the Android. When I changed over from my iPhone to an Android, I was so bummed I couldn't use it anymore. That was years ago though.
The photo-taker and scrapbooker in my loves this app! I check this app everyday. Usually before I even get out of bed. Yes...I am one of those that checks my phone before I start my day.
I love being able to look back for years and see what was going on on this exact day. The good, the bad, and the ugly! I especially love looking back and seeing my son and nephews when they were much smaller than they are now.
So, what is Timehop exactly? If it isn't self explanatory or explained well enough from my droning on, here is what they have to say about themselves.
A time capsule of you.

See your photos and updates from this exact day in history. Timehop helps you celebrate the best moments of the past with your friends!
I am not going to explain what instagram is. We all know what it is, right? I used to be a sporadic poster on instagram. I am now using it daily though. I use it for my project 365. Posting a photo a day every single day. I really enjoy it! Even though we are not through January yet, I already like looking back at the month. You can follow me at
march2december
So there you go. Pretty boring, right? Just a photo loving mom and her photo loving apps!
---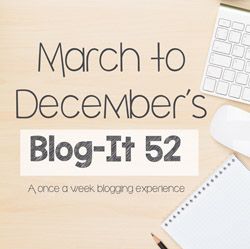 You guys!! That is only two apps. I know there are more apps out there that I should be using. I also realize I am super boring! So....help a girl out!!
What apps should I download?

What apps do you use everyday?
Make sure you come back and link me up with your blog post. I love to read what you all have to write. I will also showcase a few of your posts on my FB and twitter!
There are no rules for Blog It 52. Only to have fun and blog! If you want, you may grab this button to showcase with your blog post.