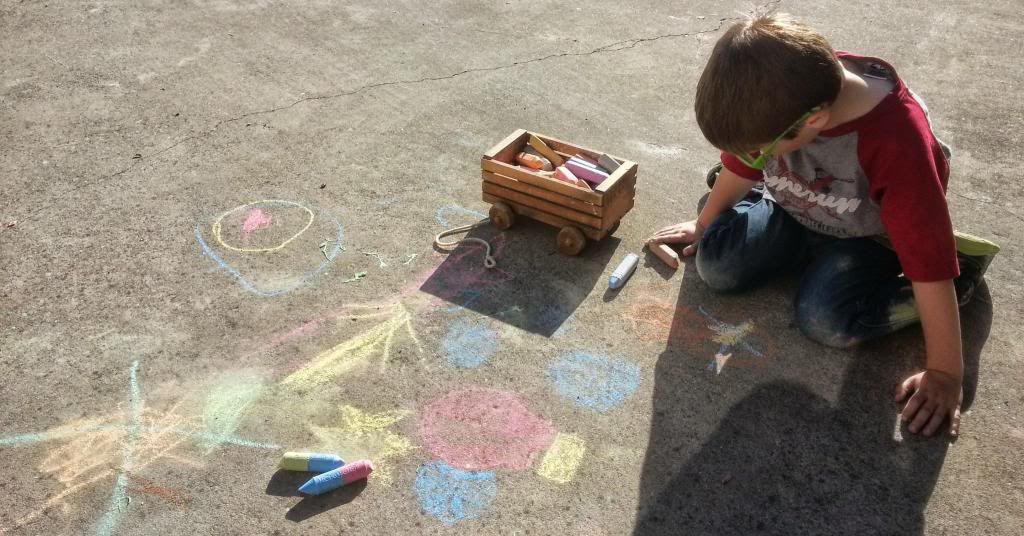 Z covered in chalk and just being a kid. <3
So, taking a few weeks off from blogging, I got a bit behind on my Project 52. Fear not!! I did not actually get behind on taking of the photos. Be it camera or phone, I am always taking photos. So, this post I am going to update Week 14 - 16. So, I will hop right to it.
Week 14: Growth
I am posting Z's weekly photo along with these since I am posting three weeks at once.
This week, we had stopped by where my sister-in-law was getting married. I have lived in this area my entire life and I actually wanted to get married here. I never actually visited the place before. We checked it out on this beautiful spring evening. The wisteria was blooming that day. It was SO pretty!! So, I thought that would be an appropriate photo for "growth".
Week 15: Childhood
Z's weekly photo could say "childhood" too! Sitting in a parking lot eating a Popsicle and getting more of it on his face!
Childhood. I could probably fill a post (or two) up with just that. However, I went with this. We bought some silly string and the guys had fun with it. I just so happened to capture this photo. It was when Z actually got his to work. He squealed with delight. I would just like to point out, that this was pretty much the only time they shot each other with the string...they were mainly shooting me with it!
Look at my handsome little man all dressed up for Easter!!
The skyline was not a hard thing for me to capture. I probably take a photo of the sky about once a week. This is what the skyline looks like out in the country. :-) This was on a overcast morning. I am a lover of weather. I enjoy rainy days as much as the sunny. Each type of weather has its beauty. I would say I am not a fan of tornadoes though. Scary!!
So, there you go. Three weeks all rolled up into one post. This weeks prompt is
A Favorite Place
I have an idea in mind but haven't captured it yet. I am off work tomorrow (it is the hubby's THIRTIETH birthday) so I might go take that photo tomorrow...
So, you know the drill. For those who don't:
- Leave me your link.
- Link back to here
(if you want the button, it's on the side)
- Leave love for anyone else who might partake in the fun!
- It is never too late to join!!
xoxo
*************
Click to
VOTE
|| Click to
LIKE
|| Click to
FOLLOW